5 Lessons Marketers Can Learn from the Popeyes/Chick-fil-A Chicken Sandwich Twitter Wars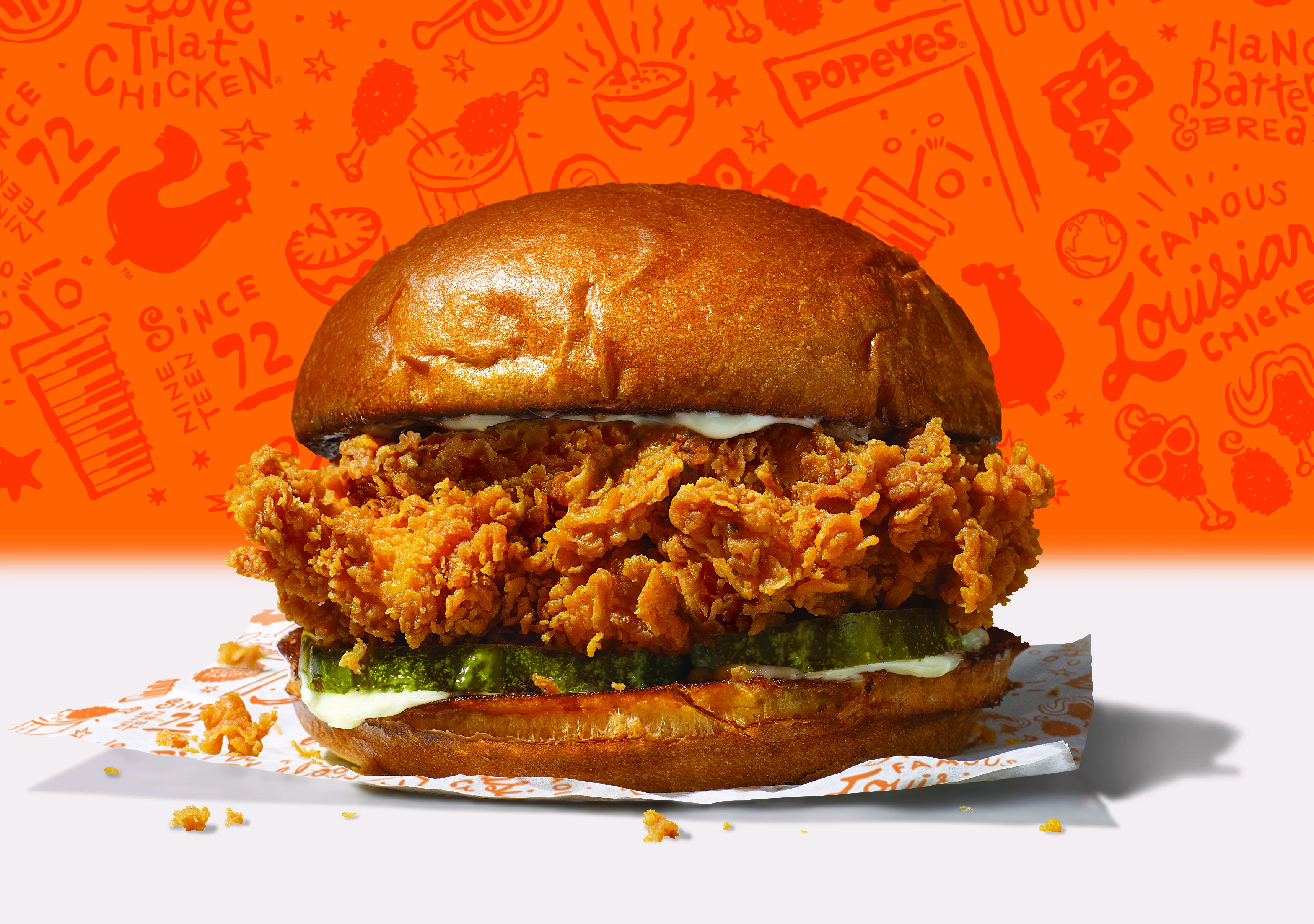 Marketing and PR professionals marveled at how Popeyes Louisiana Kitchen turned an online duel with rival Chick-fil-A into $65 million in "free" advertising this past August when its sassy Fried Chicken Sandwich battle went viral on Twitter—and led to a complete sell-out of the sandwich in all 2,400 Popeyes stores across the U.S. Not since Wendy's lambasted rivals McDonald's and Burger King with its "Where's the Beef" TV spots has brand vs. brand combat so entranced consumers.

It started when Chick-fil-A—in response to Popeyes' launch of a new chicken breast sandwich—sent a tweet insisting that it had created the chicken sandwich ("Buns + Pickles + Chicken = All the [heart] for the original"). Popeyes responded with a two-word tweet: "Y'all good?" And the feud began, spilling out from social media into the chain's brick and mortar stores. One Chick-fil-A store posted a sign that said, "FYI: We Don't Run Out of Chicken Sandwiches," while Popeyes slammed back with, "FYI, People Need to Eat on Sundays" (a poke at Chick-fil-A's faith-based schedule). Craziness ensued—consumers claimed that DoorDash and Uber Eats delivery people were devouring their Popeyes sandwiches, and one sandwich was being auctioned off on eBay for $4,316.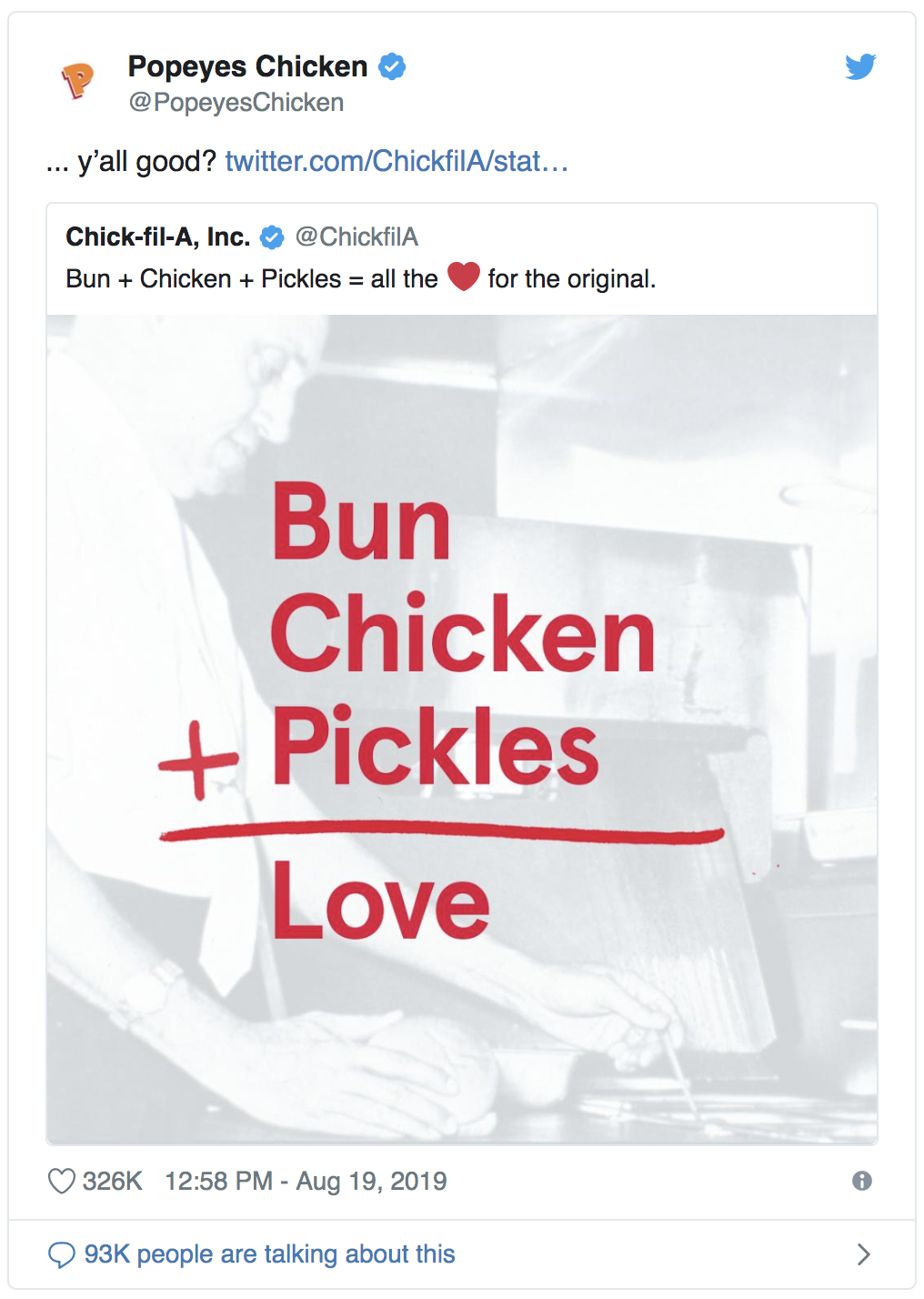 Although the organic social campaign wasn't without its bumps—long lines for sold-out chicken sandwiches led to exhausted employees working overtime until headquarters made the decision to suspend the sandwich—the New York Times cooed "a two-word tweet had turned the chicken sandwich rollout into the most successful product launch in the company's history."
So what can marketers like you learn from Popeyes' online victory?
#1 – It's Not (Just) About Total Followers, It's About Follower Engagement
The Popeyes Twitter channel (with only 182,000 followers compared to Chick-fil-A's 1 million) used a David vs. Goliath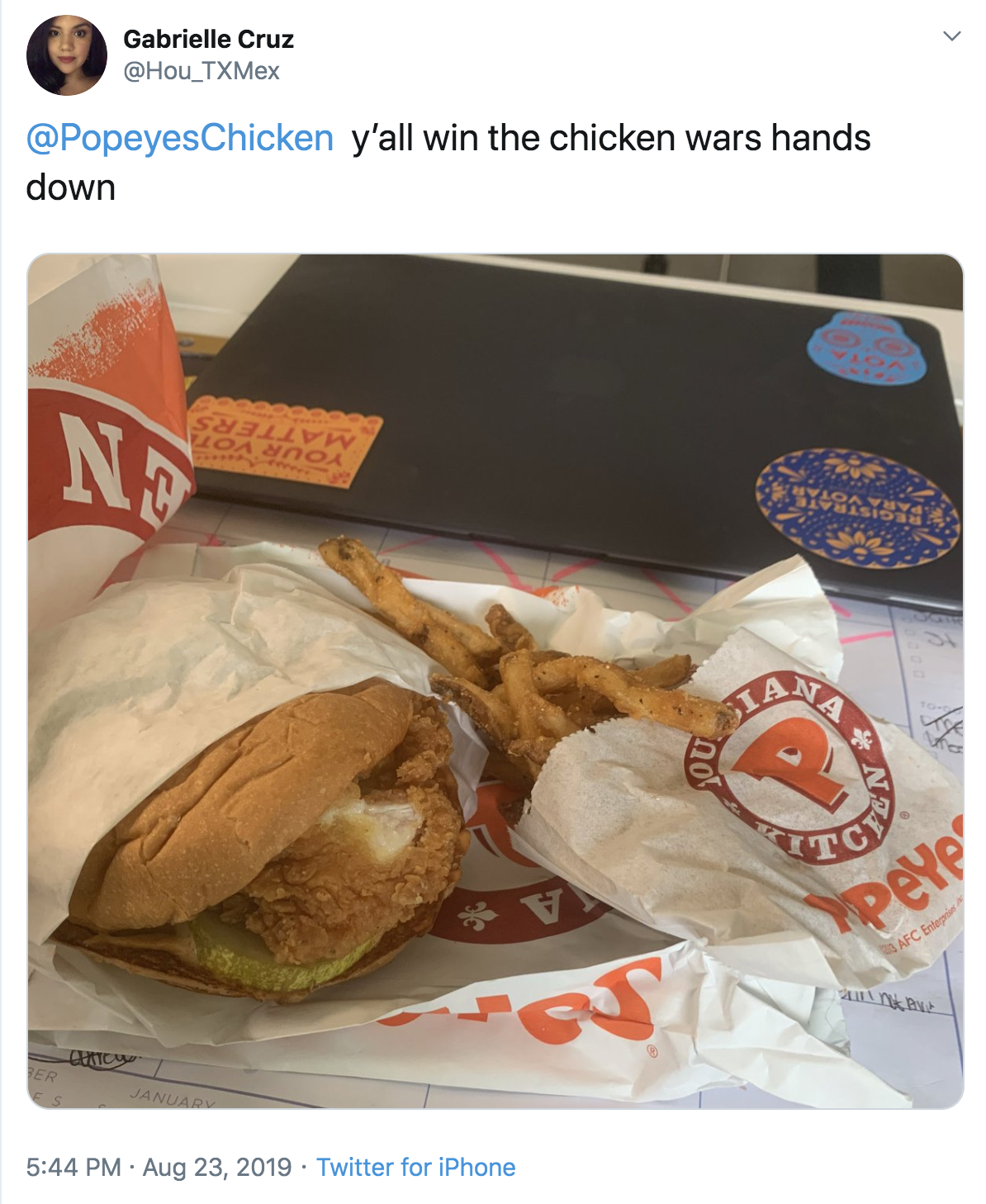 strategy to crush its rival thanks to a far more engaged social following. Popeyes' initial tweet received 325,000 likes and was shared 5,200 times, far outperforming Chick-fil-A's tweet.
For those obsessed with follower counts, in the wake of Popeyes' viral triumph, its Twitter following shot up by 60% (compared to Chick-fil-A's anemic 4% boost during the same period), adding more than 25,000 new followers for Popeyes, according to Thinkum data tracking.
But Popeyes' engagement with its followers continued, even as Chick-fil-A moved on from the Chicken Sandwich Battle to promote its Waffle Fries and Grilled Chicken Nuggets.  Popeyes maintained its momentum by owning the social field and posting a lively 50-second video documenting the excitement that engulfed Popeye's chicken sandwiches. It kept its followers engaged, which turned what could have been a single tweet into a full-on social campaign. 
#2 – Act at the Speed of Social Media
Barely 15 minutes elapsed from the time that Popeyes marketing executives learned that rival Chick-fil-A had dissed its chicken sandwich on Twitter to the moment that Popeyes tweeted out its response.
Far too many corporations would have double-checked possible responses with in-house legal counsel, debated the risks of responding to a competitor on social, confirmed actions with their CEO and executive team, and perhaps responded within a day or two—but that's not the timing for a conversation! What's clear from the Chicken Twitter Wars is: Popeyes' internal team knew its brand tone and social media protocols in advance, and were ready to respond like lightning when a social media opportunity arose.
#3 – Let Go of Control on Social (Within Reason)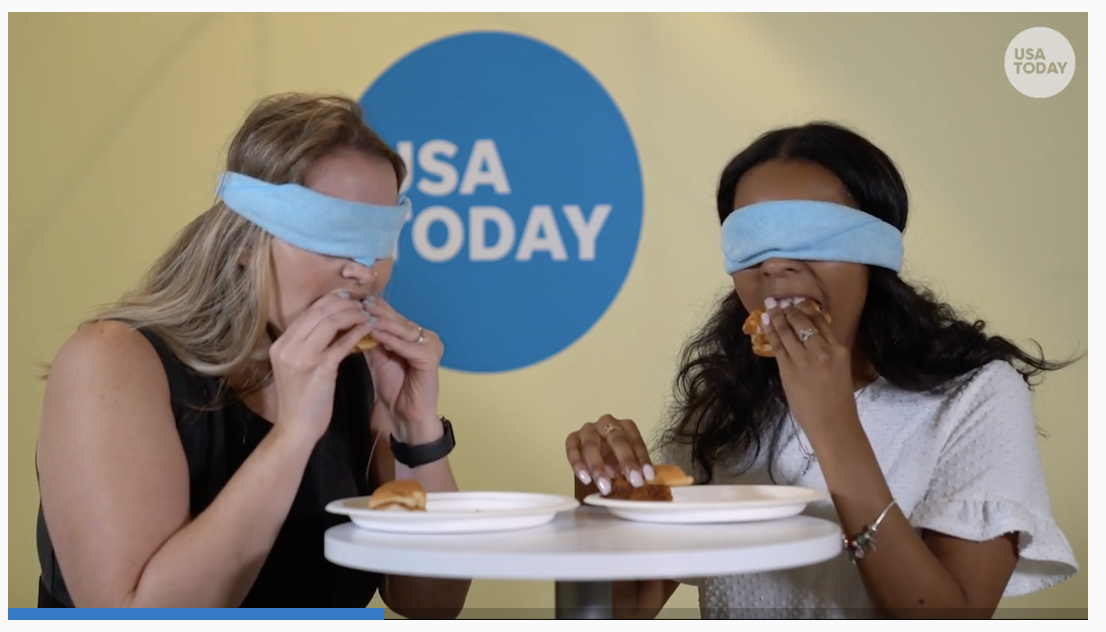 Popeyes welcomed it when newspapers and local TV news outlets around the country (such as USA Today, as seen in the image at right) held their own taste tests of Popeyes vs. Chick-fil-A chicken sandwiches, even though there was no way to predict who would come out on top. Even better, Popeyes implicitly urged the American public to perform their own taste tests of the two sandwiches, with dozens of consumers immortalizing their evaluation on social media. Notably, the chain's African-American fan base responded spontaneously, celebrating their affection for the brand.
Popeyes didn't try to control the tsunami of social posts with pre-manufactured memes or shareable content. Rather, they let consumers fly with their own grainy, messy, hilarious, sandwich-chomping posts. They trusted their fans on social.
#4 – Make Your Social Channels Reflect Your Humanity (Because You Are Human, Aren't You?)
Face it, most social media posts from risk-averse corporations feel as human as an IRS form. Not Popeyes, whose social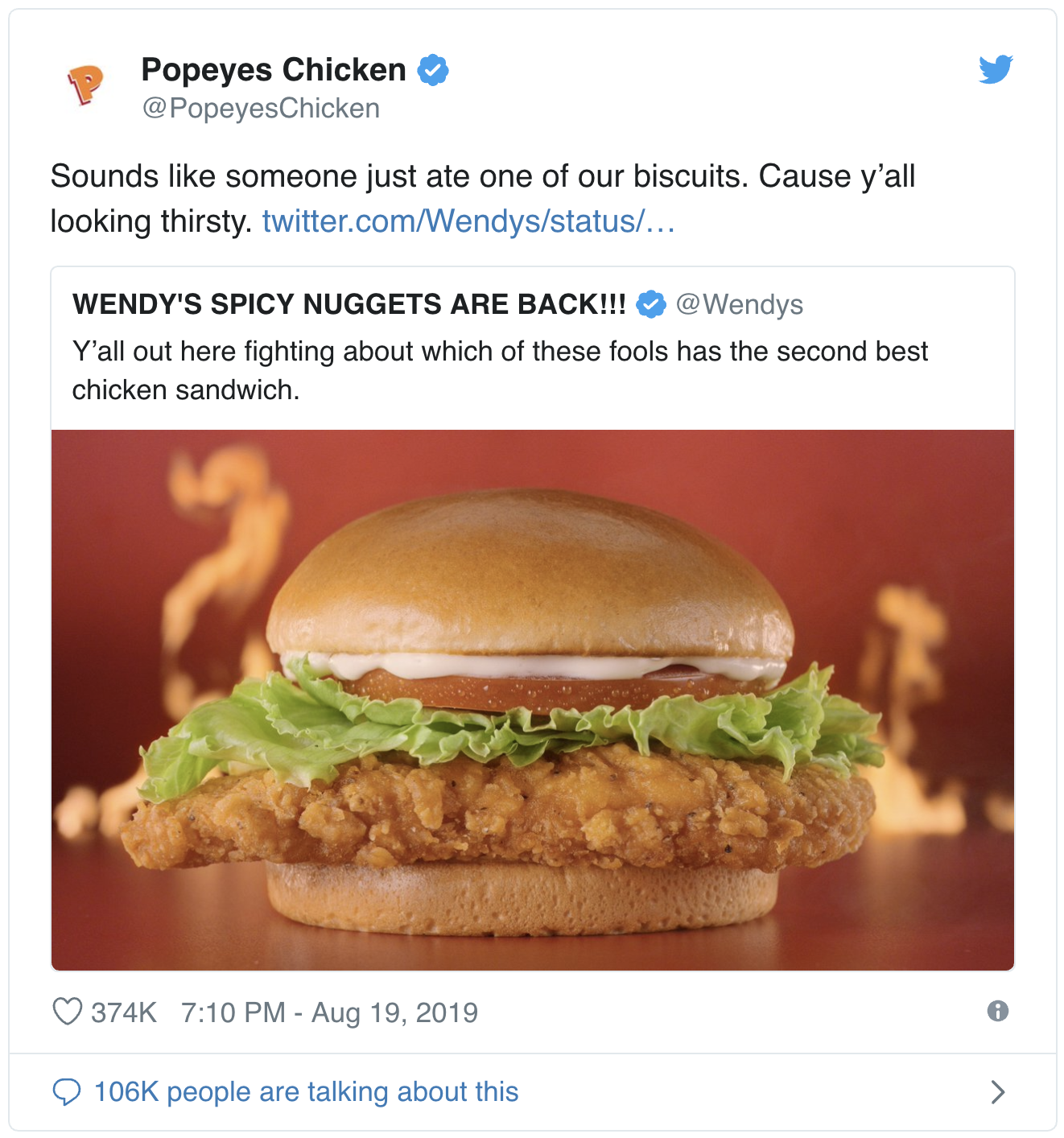 media tone is witty, snarky and sardonic—in other words, flagrantly human. Example: "Chicken. Brioche. Pickles. New. Sandwich. Popeyes. Nationwide. So. Good. Forgot. How. To. Speak. In. Complete. Sandwiches. I mean, sentences."
When Wendy's social media team tweeted out its own fighting words, "Y'all out here fighting about which of these fools has the second best chicken sandwich," Popeyes slammed back "sounds like someone just ate one of our biscuits. Cause y'all looking thirsty." Incredibly, Chick-fil-A went radio silent on Twitter after its initial tussle, leaving the social media field to Popeyes fans ("I can confirm, without a fraction of a doubt, that this is a chicken sandwich fit for a God," said one fan, a tweet shared by Popeyes. "The hype is real 10/10 @PopeyesChicken.") When celebrity chef Emeril Lagasse tweeted out "it's time to try out this @PopeyesChicken sandwich," Popeyes' social team high-fived him with a single-word Tweet, "Bam!!"
#5 – Prepare For Success While Your Brand Gets Ready for Disaster
Our public relations firm, like many of our agency competitors, prepares clients for catastrophes—product recalls, federal investigations, consumer boycotts, layoffs, litigation and other crises that businesses may expect to endure. But the aftermath of the Popeyes chicken sandwich wars suggest that brands should also consider preparing for the pain and stretch marks that come with unexpected success.
Sure you might be ready to respond if an advocacy group called for a boycott of your brand. But if Kim Kardashian were to suggest to her millions of followers that they should buy your product, would you be ready to scale up fast? In Popeyes' case, the franchisees themselves referred to the chaos in-store as "mayhem," with the New York Times reporting on "sometimes hostile interactions with impatient customers" who waited in long lines for a sandwich that sold out. To its credit, Popeyes is now using its social channels to urge fans to download its free Popeyes Chicken App, so "you'll never have to wait in line for your favorite chicken again."
Was the Popeyes marketing team utterly brilliant or just lucky that their social media response to Chick-fil-A resulted in a multi-million dollar victory for their restaurants? Would your brand feel comfortable engaging online with your biggest competitors? And, most importantly, which chicken sandwich is your favorite—Chick-fil-A or Popeyes? Send us a comment or an email at paul@maccabee.com and let us know.