Become Epic with Content Marketing: Interview with author Joe Pulizzi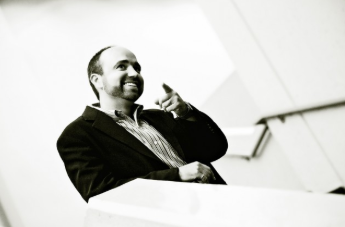 When a game-changing marketing strategy has been embraced by such global brands as Coca-Cola, Lego, General Mills, Zappos, Sherwin Williams, Ford, Google, Procter & Gamble and John Deere, it's time for VPs of Marketing and Public Relations (PR) Directors to pay close attention.
Content marketing evangelist Joe Pulizzi is the author of a recent book, Epic Content Marketing: How To Tell A Different Story, Break Through the Clutter, and Win More Customers By Marketing Less.
In this exclusive interview for the MaccaPR blog, Pulizzi explains how traditional PR and advertising programsaimed at earning and buying space on media outlets are being supplanted – and quickly – by brands that create their own content and become media outlets themselves. What's more, these brands treat their audiences not as sales prospects or customers, but as readers and content "subscribers."
Pulizzi, founder of the Content Marketing Institute, urges marketers to establish their companies not as a vendor, seller or manufacturer, but as leading information sources in their industries. The tools Pulizzi recommends for marketers include: blogs, YouTube videos, e-newsletters, e-books, mobile apps, webcasts, podcasts, online games and infographics. The goal: avoid "sales speak" by attracting subscribers to riveting content that's real-time, visual, curated and fast-driven.
It's a lively book from a provocateur who challenges the strategies, timelines and budgets that most of today's marketing campaigns are founded upon. I expect many in the PR industry will be pleased by Pulizzi's book, while some ad agencies may become unsettled at Pulizzi's prescription. Chief marketing and communications officers, however, will find "Epic Content Marketing" a mesmerizing read.
We spoke to Joe from his offices of the Content Marketing Institute in Cleveland:
1. What's the biggest paradigm shift marketing directors have to accept if they're to succeed at content marketing?
"If you're a marketer who wants to build an ongoing audience long-term for your brand's content – not just have consumers see that one TV ad campaign or read a placed article, but become engaged as a consistent audience over a long period of time – then you have to look at what media companies like Fast Company and Inc. magazine are doing. Of course, Inc. would never publish an article saying 'you must come to our Inc. event' or print a cover story about how 'Inc. magazine has the greatest advertising opportunities ever.' Every piece of Inc. content is focused on how to make its small business owner readers more profitable.
It's often a very different story when you review a company's marketing materials. If you're a brand marketer, you need to be honest in auditing the marketing content you've been pushing out. Ask yourself: does your audience really care about your CEO and how awesome he says your product is? No, they do not. Ninety-five percent of most company's marketing content – white papers, blog posts, print ads, press releases – is about US, the company. . . not about your audience at all. You used to be able to get away with that, because consumers didn't have any other channel for high-quality content. Now, the Web has armed them with all the information they need for buying decisions. So marketers have to switch lenses; if your marketing materials are not talking about how to improve your customer's lives, then your content is not worth doing."
2. If the future of news content is content that's not curated by independent journalists, but produced directly by brands themselves – what role remains for PR professionals?
"Hey, I've been speaking to the PRSA and other public relations groups for a decade. With the revolution in content marketing, it's PR people who understand how to tell powerful stories about a brand. It's how you distribute and get those stories found by readers that's different. Content marketing is not a replacement for media relations. We'll still need PR people to persuade editors to tell a brand's story."
3. How does a shift to content marketing change the timeline of engaging with consumers?
"Typically, a company's budget is designed for a six-month marketing campaign, after which the company or agency may kill it. Content marketing takes patience. It requires two to three years to build an audience.
I just spoke to the CMO of one of the largest consumer packaged goods (CPG) companies in the world. He told me, 'Joe, I don't want to wait two to three years to build an audience.' And I told him, then go to the leading media property in your industry and buy it. Your company will instantly and immediately have that loyal connection with your targeted consumers. Here's an eye-opener: A year from now, you'll see the largest Fortune 100 companies buying media properties, instead of buying ad space."
4. How should PR agencies and corporate communications directors view content marketing?
"First off, can we agree that press releases are not working as a marketing tool? Clients should ask their PR agencies to take a story-telling mentality and focus on telling those stories via owned media platforms like company blogs or article repositories, on a consistent basis, rather than through individual placements in earned media.
At the end of the day, as a brand marketer, you don't want to have to buy advertising or convince editors and producers with outside media to cover you – you should have the option to do that. When brands become publishers, they acquire that freedom."

5. Given how much focus in "Epic Content Marketing" is on digital and social media, I was surprised at your recommendation that brands write a book – what you describe as not an e-book, but rather "a 'makes-a-big-thud-when-dropped-on-a-desk' book that is produced from dead trees'!"
"Look at the greatest media brands of all time – the New York Times, ESPN, Fortune magazine. Those brands all rest on three legs of a stool – a digital property, a print property and event/conference properties. You reach different segments of your audience through those different channels.
Why did the website AllRecipes.com just launch a print magazine? If your company wants to be the leading expert in your industry, you need a book, magazine or other print property. The leading expert in every industry has a book. To speak at large national conferences as an industry expert, you need a book – otherwise, you're just a vendor, not a thought leader."
6. Your book recognizes that traditional media is dying and that consumers are now as likely to check out reviews of new cameras on Best Buy.com as in Popular Photography, or search for recipes on General Mills' content sites such as Tablespoon, rather than in Food & Wine magazine. As a marketer, this opportunity to connect directly with consumers, rather than through gatekeepers, is terrific. But as a former journalist, this move to brand-produced "news" could be unsettling – can we trust corporate-sponsored content the same way we respect independent journalism?
"I'm not saying these developments are good things, but it's the reality.  Hey, I came out of trade magazine publishing at Penton. I lived through the days when we cut our entire research department and most of our writers, turning instead to stringers. The ad money was no longer there to support the magazine. I predict what you'll see happen is more big companies with large budgets will buy the media outright; as Amazon's Jeff Bezos did when he bought the Washington Post."
7. Should our MaccaPR readers establish a dedicated content marketing department?
"No. If you establish a content marketing department, you just create another silo. However, it is smart to assign someone as the ambassador in charge of all content marketing throughout your organization."
8. So, to quote the character played by Cuba Gooding in the film, 'Jerry Maguire,' "Show me the money!" Where are budgets for content marketing going to come from?
"There's a content development line in your Human Resources budget, in your social media budget, in your email marketing budget and in other departments. The budgets are there, but it's all in silos – so you get different stories being told. Larger companies are now embracing the Kraft and Coca-Cola model of a content center of excellence that unites the entire company.
To be honest, the money for content marketing is coming out of advertising budgets. The involvement of agencies in native advertising is making that easier. In talking to major CPG companies, they're cutting content dollars from their ad budgets – so instead of spending $2 billion on advertising, they siphon off a few hundred thousand for content marketing and spend just $1.9 billion on advertising."
————-
Thanks to Joe Pulizzi for imparting his contenting marketing knowledge with MaccaPR! Connect with Joe on Twitter, Google Plus, SlideShare, Facebook, LinkedIn, YouTube and his blog. Stay tuned for part two of our exploration of Joe Pulizzi's thoughts on content marketing continues next week.