How Clients Can Get Their PR Agency To Love Them (And Why Clients Should Care!)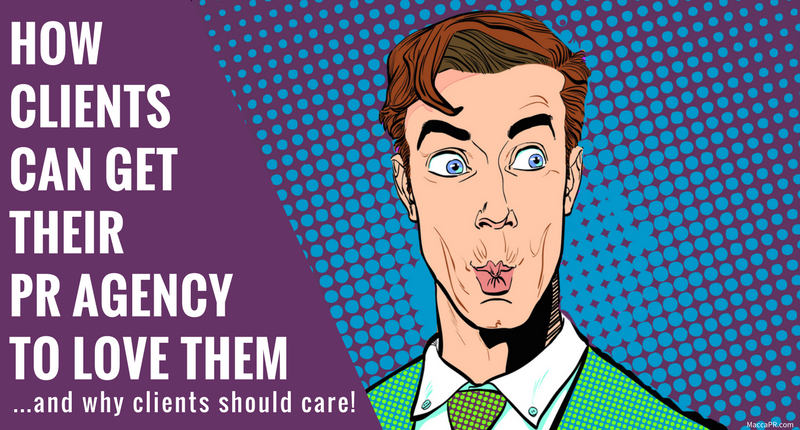 Does your PR agency love you? No really, do they absolutely adore working for your company? Does your PR agency explode with joy when they come by your office, as they lavish you with their best ideas, assign their strongest talent to your account, surprise you with above-and-beyond ideas, and relentlessly share strategies that will push your brand and your business forward?
Wait, you say – given how much you pay your PR agency, why should you, as a client, need to do anything beyond covering your invoices – shouldn't that be enough? Isn't it your PR agency's job to get YOU to love them?
To be honest, yes…and no. To understand why clients should strive to persuade their agencies to love them, we polled four of our favorite PR agency leaders who, among them, have served literally hundreds of clients: Carmichael Lynch Relate President Julie Batliner; Padilla President Matt Kucharski; Lola Red Founder Alexis Walsko; and Solo Practitioner and LaBreche PR Founder/Former President Beth LaBreche.
But first, allow me to share a quick story about a client who knows precisely how to make the Maccabee agency love them madly. We've worked over the years with a multi-billion dollar corporate client who understands how to get our best PR work – they applaud our successes, welcome (and usually accept) our PR counsel, introduced us to their senior leadership, took risks with marketing campaigns when we advised that those risks were strategic, and have always been completely transparent about their goals and business plans. This client even fed us when we visited their offices (never under-estimate the power of that tactic to melt your agency's heart). But our white hot love for this Twin Cities client was sealed forever when their marketing director called one day to ask a question: Could they pay for the next 12 months of our PR work for them – in advance? When I regained consciousness, we were ready to go beyond just exceptional work for them – we were prepared to wash their floors, diaper their babies and cook them dinner every night (and I can't cook, but I swear I would learn). Not surprisingly, we knocked ourselves out for that client. We've continued to do so. We wake up in the morning and think: What can we do to reward their devotion?
Why Should Clients Care If Their PR Agency Loves Them?
"It's simple. They'll get better results," says Padilla's Kucharski, whose clients have ranged from Cargill, 3M and Mayo Clinic to start-up challengers. "I could be politically correct and say that all clients are important clients. But let's face it – we're human. We do our best work for the clients who appreciate what we do – and show it. That doesn't mean you can't challenge us – in fact, we LOVE to be challenged by clients who love us. We're more interested in their success, we're motivated to come forth with that 'big idea,' our teams are engaged and have less turnover, and we're more likely to invest in their business.

"You can tell a lot by how many agencies a client has worked with," adds Kucharski. "If you're a jerk, you might get faster results in the near-term, but it won't be sustainable. You'll lose the best people and need to go find another agency or, worse yet (for you anyway), get yourself fired."
Says Lola Red's Walsko, whose clients have included Life Time Fitness, Smashburger and Love Your Melon: "You get the best work and value from people who adore you. We will go above and beyond and never blink when asked for a personal or professional favor. The work will be more FUN. Great partners unite on goals and will be there to celebrate the successes, as well as stand by you in the tough times."
"People at agencies can't wait to work on their favorite clients," agrees LaBreche, who's worked with 3M, American Express and Medtronic. "They actually are always thinking of them and how to solve problems and drive their business further. Those clients get more from their agencies. So much value is added, long after the billable clock has stopped. You just can't help yourself from helping the clients you love the most."
Concludes Carmichael Lynch Relate's Batliner, whose clients have included Jack Link's, Sherwin-Williams and Schwan's: "Agency teams will go above and beyond for the clients who are true partners…and nice people!" 
HOW TO GET YOUR PR FIRM TO LOVE YOU
To divine what it takes to get your agency to love you, consider the opposite: How can clients who pay their agencies millions of dollars still get their agencies to resent them? One way was documented by Advertising Age, which cited how Procter & Gamble has asked its agencies to accept 75-day delays in payment for their work. That was followed by snack giant Mondelez International and candy company Mars demanding up to 120-day terms. And then – incredibly – perfume giant Coty was asking media buying agencies to agree to 150-day delays in being paid for their work. Nothing's more likely to drive your agency into a pit of despair than forcing them to become your banker – a move that puts the agency's financial health at risk and sends a message that they are just a vendor to you, not a trusted partner.
So after agreeing to pay your agency within 15 to 30 days of receiving its invoice, how else can you get your PR agency to love you? "The old adage 'To know me is to love me' applies to clients," adds Padilla's Kucharski. "The ones we adore aren't afraid to share – what's going on in the company, their departments and their personal lives. That requires trust, risk taking and showing a little bit of vulnerability."
"A good client/agency relationship IS a lot like a good marriage," muses Kucharski, preparing to unleash his notorious clown metaphor. "You may not want to share your irrational fear of clowns on a first date, but at some point, your partner needs to know or you won't have a healthy long-term relationship – unless, of course, you're a clown – in which case you're doomed, no matter what. And if you REALLY want to be adored – and I mean be in the top 10 percent of all-time awesome clients – the best way is to be our agency's advocates with senior leadership, other partners and definitely with procurement."

"Recognize that you hired our agency to be experts," confirms Walsko of Lola Red. "If you want to tell us how to do our jobs, then you should probably do it yourself. Don't be condescending. We're on the same side. In fact, we're responsible for saying wonderful things about you and your business. Do not make us lie."
Oh, and that journalist friend whom you know at CBS-TV? "We're thrilled that you have a lot of reporters as friends and have gotten a lot of press by calling them in the past," says Walsko. "If you want to continue doing this, do not hire us. We will respect your relationships, but clients need to trust our process because it will deliver the best results."
Of special value is this advice from Walsko, warning about the temptation to second-guess the rates your agency charges you: "Show your agency partners that you value their work and their time. Don't try to negotiate our hourly rates. It's demeaning and shows that you don't see value in our expertise."
In our 21 years of client experience at Maccabee, the single most effective step that clients can take to endear them to us is to be transparent – sharing their marketing plans, giving us access to web traffic and other analytics, introducing us to their salespeople, distributors, wholesalers and even their CEO. With that trusted access, our PR firm can deliver what every client really hires a PR agency for – strategic, thoughtful and creative big ideas that will advance the company's interests going forward.


"Give your PR agency all the information you have, so they have full context of every project," says LaBreche. "Agencies love to be in the know, so they can be as helpful as possible for you. Say this often to your agency: 'I didn't want to make this decision without getting your input.' The best clients say: 'Let's have lunch, volunteer together, sit together on the plane.' The clients I adore want to get to know me and let me get to know them. These relationships can last years. They don't keep me at arm's length. We respect each other professionally and personally. Many of my clients are like family to me."
Batliner with Carmichael Lynch Relate agrees, "A client's success is an agency's success. Let us be partners rather than treating us as vendors. We should know about each other's business and personal goals, so we can support you and have fun while doing it. Share information, both good and bad. If an agency doesn't get briefed appropriately by a client, we can't provide the best solutions. A great briefing equals stellar results."

Now are you ready to, paraphrasing Robin Williams in the film, 'Dead Poets Society,' pitch woo to your PR agency? Here are two final secrets to enchant your PR agency:
Pleased To Meet You, Won't You Guess My Name: Introduce us to all of your other marketing partners –advertising, digital, experiential/event marketing, multi-cultural, SEO consultants, video production – so all of your agencies can exchange notes and share ideas. Our PR successes for Maccabee client OfficeMax, when we launched its World's Largest Rubberband Ball, flowed directly from that retailer's openness collaborative spirit, its advertising agency (DDB Chicago), event agency (Innova) and internal PR staff. As Ben Franklin quipped, "We must all hang together or, most assuredly, we shall all hang separately."
Little Notes Lead To Big Loyalty: Our agency serves a Twin Cities technology client who surprises us periodically with one-on-one personal notes, letting me know which of our employees went above-and-beyond to make her happy and the company more successful. I want to frame these notes. It makes our employees work three times as hard for this client. We love them.
What are your thoughts about how clients and their PR agencies can create bonds of respect, trust and devotion?