Is Your Social Media Voice Helping Or Hurting Your Brand?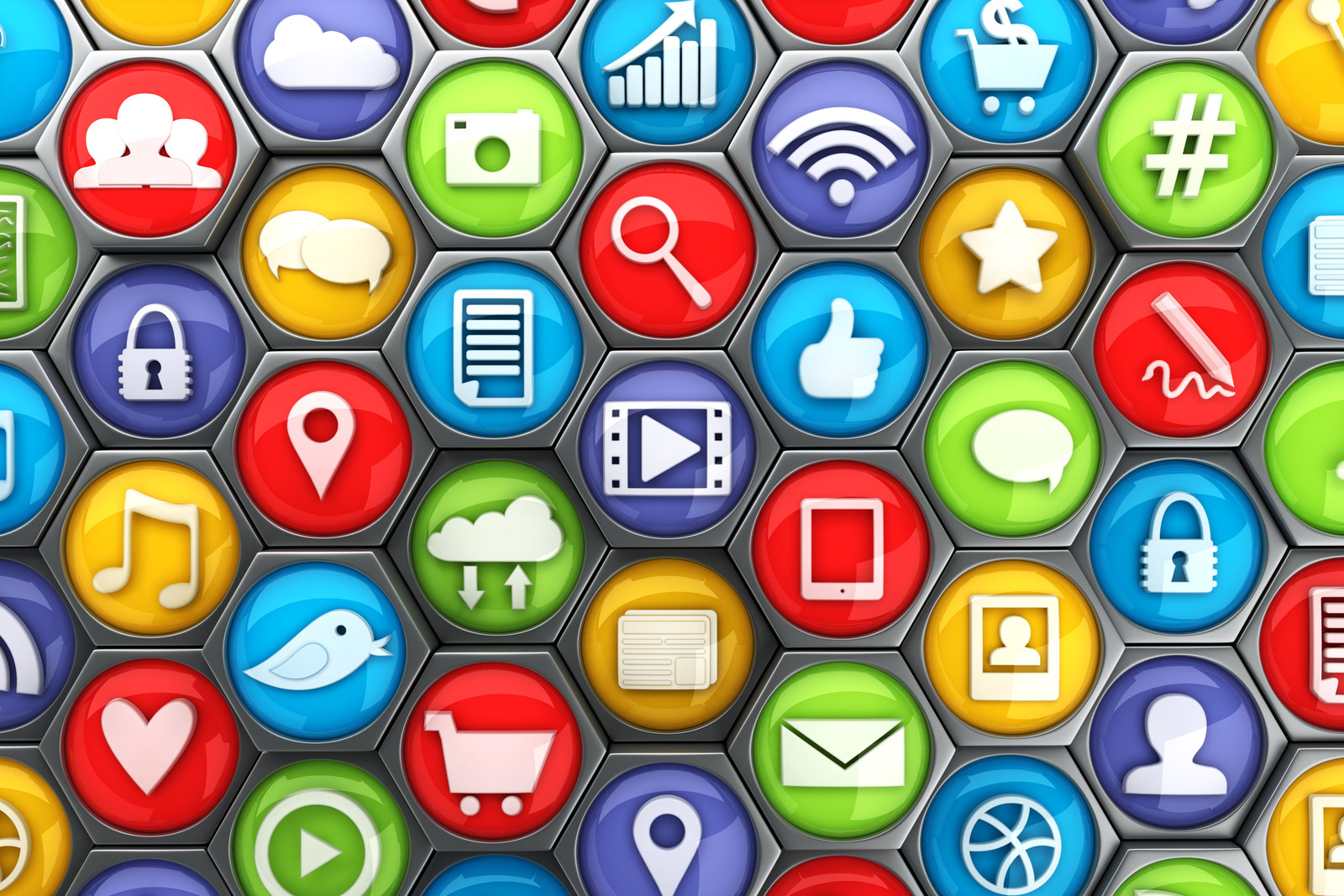 "We don't want brands talking at us as if we are dollar signs," warns Kevan Lee, director of marketing for the social media publishing company Buffer. Sure, your company has developed a social media strategy, but have you developed a signature brand voice online that treats your social media targets as flesh-and-blood people with personalities, needs and wants – rather than just potential revenue? 
Investing time and money into your social media content that is inconsistent with your business image and mission is a marketing misstep that often leads to overall confusion from your target audience. The simplest way to ensure that your Facebook, Snapchat, Twitter, Instagram and other social platforms are consistent with your brand is to use a voice that mirrors and amplifies your overall marketing goals.
Our agency has seen that voice styles for branded social media accounts generally fall into two categories, which we refer to as "informational" and "conversational."
A quick note before you dig in: In this blog post, we're talking about your brand's voice, not its tone. Voice is what we define as your brand's style, point of view or personality. Your brand's tone, on the other hand, is the attitude that gives your voice color and can shift depending on each specific message that is being sent. In general, brand voice tends to stay the same. Let's continue!
Informational brand voice
This more formal social media voice is characterized by professionalism, consistency and standardized response to audience engagement or questions. Brands that choose to craft their social media content with an informational voice aim to publish posts and engage with their consumers in a traditional way that focuses on amplifying the business's defining principles and characteristics. This style tends to:
Minimize guesswork involved in engaging with consumers, as there are often set responses in place for any possible type of interaction. Template responses, like those used by Google, below, make it easy for individuals in charge of social media management.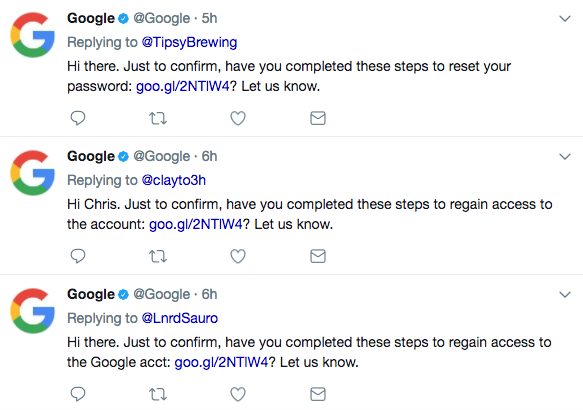 Prioritize reactive over proactive communication, such as answering a question asked by a consumer versus your brand fueling engagement by asking a question of followers.
Have a voice that is clear and predictable, such as dairy company Kemps posting a recipe on National Milk Day.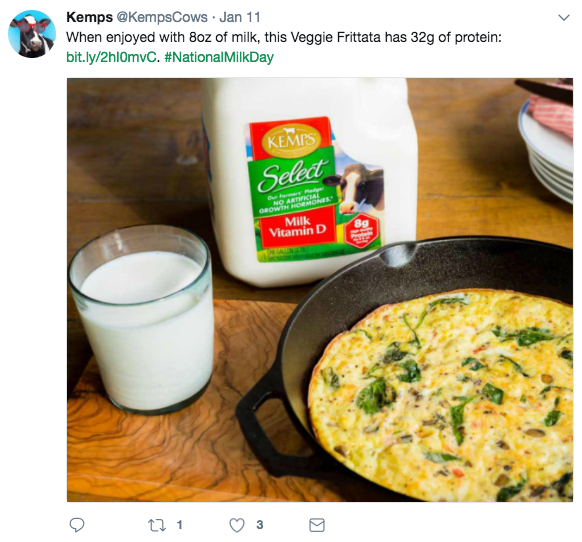 Be ideal for public companies or regulated industries, such as Boeing or Wells Fargo, because of the standardization of response and engagement.
Other examples of brands or companies that use an informational style of voice on their social media channels are GE and Macy's.
Conversational brand voice
A conversational voice capitalizes on making a brand's social platforms both resources for consumers as well as spaces for speedy, oftentimes playful back-and-forth. Some marketers have called this conversational approach "social customer care," since it focuses on turning consumer inquiries or comments into opportunities for your brand to create connections with consumers through conversation. The conversational style of social media voice tends to:
Require a designated social media manager who is well-versed in the voice of the brand and trusted to create content and engage with consumers in that voice on the fly.
Frequently have a tone involving humor – and sometimes snark (more on that below) – to engage with followers. Below is a funny example that we love from Netflix US during the Total Solar Eclipse.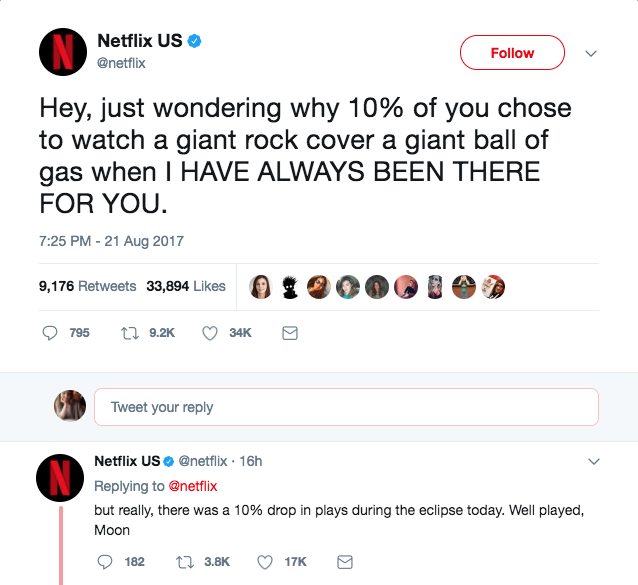 Comment on or engage with current trends in pop culture like Tarte Cosmetics did in the Twitter example, below, mentioning the popular "Stranger Things" show.
Me leaving the grocery store today like… #NationalWaffleDay #StrangerThings pic.twitter.com/86pdwo4Erw

— tartecosmetics (@tartecosmetics) August 24, 2017 
Target a younger, millennial audience.
Be most appropriate for consumer brands.
Other examples of brands or companies that use a conversational style of voice on their social media channels, include GrubHub, American Airlines, Jack Links, This is Us, and Kwik Trip.
But, with the use of the conversational voice comes the risk of crossing the line of appropriateness, as Wendy's found out earlier this year. The fast-food chain, in its quest to be goofy and snarky, published a Pepe the Frog meme when engaging with a consumer. It quickly discovered the image was a hate symbol. Though Wendy's deleted the post, it was the subject of much criticism by consumers.
In a recent article from AdWeek, author Jay Baer talks about what happens when brands go too far with their snarky attitude, "if all you do is dish out snide comments, you're not going to help your followers, increase customer passion for your brand or attract potential employees." Trying too hard to be funny or on-trend can end up being a disservice to your company's reputation, pushing your audience away instead of pulling them in.
_____________
A recent 2017 survey by social media management company, Sprout Social, reported that the top three behaviors consumers want from the brands they engage with online are honesty, friendliness and helpfulness – all of which can be achieved by any style of voice. Behaviors such as "trendy" and "snarky," which are often associated with the conversational style, were ranked lower on the scale of desirability, suggesting that they aren't appropriate for businesses across the board.
So, how do you choose which voice is best for your brand?
If your goals are to create a social space for open and casual dialogue, sharing of user-generated content, and testing new and emerging social media platforms, consider a conversational style of social content.
If your primary goal is to resolve consumer complaints quickly and consistently, you might opt for an informational brand voice on social media.
Or, consider a hybrid style of voice. Floating in-between strictly informational and strictly conversational is exactly where some brands, like Oreo, find themselves thriving. If elements from both ends of the spectrum are what work best for your brand's social media strategy, then creating your own personalized style of voice is the direction to go.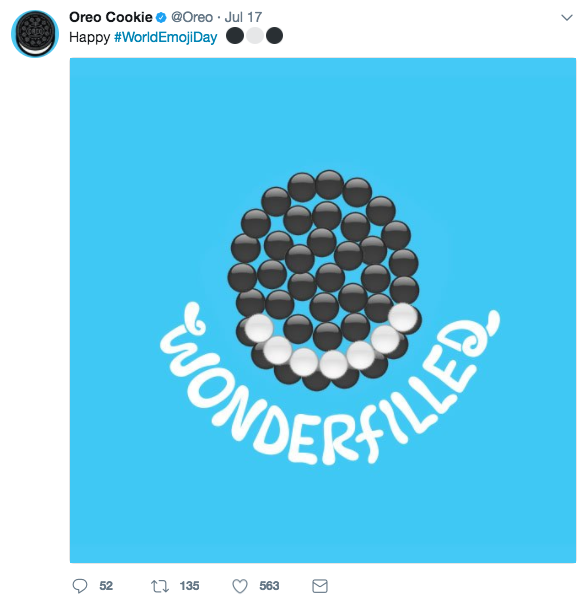 If you think critically about the style of voice that best suits your brand and then implement it thoughtfully, you will be set up to spur the social engagement you desire from your audience. And, being responsive to that consumer engagement should not be overlooked. Sprout Social data found that 30-40 percent of consumer social messages require a response, yet the average response rate from brands is approximately 12 percent and takes up to 11 hours. Help your brand stand out from the competition by speedily responding to your consumers – of course, in your social media voice of choice.